Tuesday, June 30, 2020 / by Tom Nickley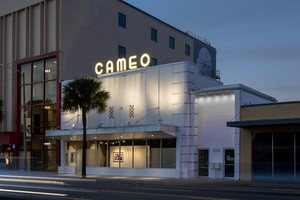 Tom Nickley keeps waking up at 2 a.m. thinking about his company's new office space.
That's because he can't stop envisioning the possibilities for his residential real estate firm The Nickley Group's future office in the Cameo Theater at 1013 E. Colonial Drive — the highly recognizable 80-year-old building in the budding Mills 50 district. He signed a deal June 26 to occupy the roughly 4,200-square-foot space later in the year for his 35 or so agents. The Nickley Group is affiliated with Austin-based real estate company Keller Williams Realty.
Billy Rodriguez and Colette Santana represented the Orlando-based landlord, 1013 Colonial Ventures LLC, in the five-year deal, and Mark Arnold, with Keller Williams, represented The Nickley Group. Orlando-based landlord 1013 Colonial Ventures LLC purchased the building for $338,900 in February 2013, according to Orange County records. The space's market value was $522,448 in 2019, records showed.
The space was on the market for less than a month as the Mills 50 area has buz
zed with real estate activity in recent weeks. For example, across the street, Anh Chau — owner of Orlando-based Asian Florida Investment Inc. — plans to demolish 723 N. Mills Ave. and build roughly 8,800 square feet of retail and commercial space there.
"All the stars aligned for us," Nickley said. "I believe it was meant to be."
Nickley's firm started looking for a new space roughly a year ago as the company grew. The group's agents sell between 35-40 homes each annually — considered high in the industry — and enjoy being in a physical office environment. In fact, they role play scripts with each other some mornings before making calls.
Nickley heard about the iconic space about three months ago after the then tenant, Snap! Orlando, was considering leaving. Snap! Orlando's founder and Chairman Patrick Kahn — and his wife, Holly, co-curator/exhibition coordinator — had bought a home from one of Nickley's agents. And Nickley had stayed in touch because he planned to do an event at the art gallery this year — and was familiar with the neighborhood's haunts.
"We've been buying pizza from Lazy Moon forever," said Nickley, referencing a nearby restaurant. "That was our stomping ground already."

The site's parking, its patio courtyard and proximity to downtown Orlando made it attractive, Rodriguez said. At least two other restaurant concepts had also expressed serious interest. "Mills 50 is just getting more and more popular by the day," Rodriguez said.
Nickley plans to move his team into the new office later this year and wants to partner with Snap! Orlando for events. In addition, he aims to open the space up and do other company events there in the future.
He hopes the space's future buildout will capture the building's history. Nickley doesn't want people to see a standard real estate office when they walk inside.
"We want to be the exact opposite."

---